Cuties

Welcome to Cuties® Care
Premium Diaper & Wipes
Providing parents the convenience of not having to worry about bringing diapers and wipes
Raising funds for your school in the process.
---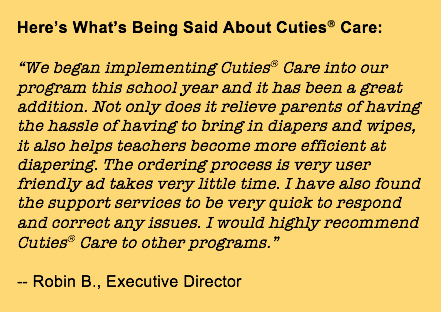 Cuties® Care is a full-service diapering supply program provided for infants and young toddlers in your care. The family supply program provides manufacturer discounts on diapering supplies that can save families $300 a year per child. Available for discount Home Supply, as well!

Use Cuties® Care as a marketing tool to attract new families to enroll in your program.
CONTACT:
Cuties Care Support Center at 800.726.6910 x 4200 or email: Jen Griffith at jmgriffith@firstquality.com.